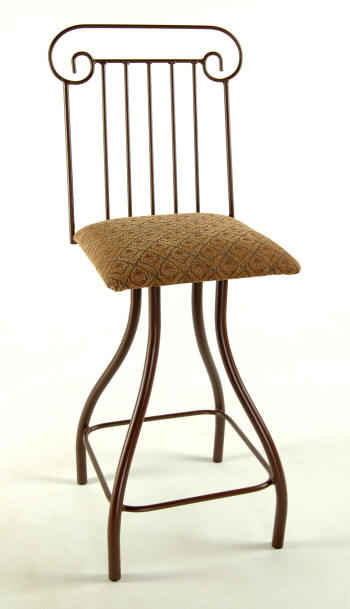 Roman Column Bar Stool
Roman Column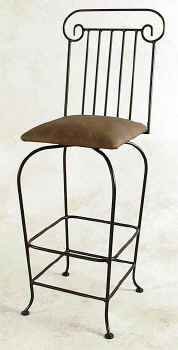 Swivel Bar Stool
available w/arms
This swivel bar stool has the classic Roman / Corinthian Column styling interpreted in wrought iron. There is a generously padded upholstered seat. The Bar Stool is available in all stock bar stool fabrics and finishes. The tubular or solid steel legs (depending on base style) are finished off with a nice non-marring glide that is safe for hardwood and tile floors. This bar stool features our high quality memory return swivel mechanism that automatically returns to the center position for easy use and care. The bar stool is available in a 24" and 30" seat height.

Manufactured in the U.S.A.
Stock Model Numbers are Listed Below
Bar Stool is available in 3 base designs - See Below
The Standard "100" Series Frame is Shown to the Left
You Can Order the 100 , 200 or 300 series with this style - See Below
Ships with Upholstered Seat - Your Choice of Fabric
How to select the correct seat height 24" > 36" Top / 30" > 42" Top / 36" > 45"-48" Top
Use the grid below to select the proper model number for the size stool and base style you desire
If You Want Arms, Add "Arm" to the number

"100" Swivel Base
24" , SW124-RC
30" , SW130-RC
No Extra Tall Available in this Style

wrought iron

"200" Swivel Base
24" , SWB24-RC
30" , SWB30-RC
36" Extra Tall - SW234-RC

strong tubular

"300" Swivel Base
24" , SWB24-RC
30" , SWB30-RC
36" Extra Tall - SWB34-RC

heavy tube frame

These bar stools are only available in the swivel variety
Swivel mechanism can be locked down with the turn of one nut if you want a stationery bar stool

Bar Stools Home Backless Bar Stools
Swivel Bar Stools Extra Tall 36
Grace Mfg. Co. Inc. is metal and wrought iron bar stool and furniture manufacturing company selling at wholesale. We are located in the NW corner of Ga. in the town of Rome. Our accessories division , The Grace Collection, imports and distributes unique home accents and accessories for the home. We manufacture barstools, bakers racks, wrought iron beds, dining chairs, dinettes sets and tables and store display fixtures. We have a comprehensive line of gift store fixtures for retail store display. Our line also includes kitchen counters stools, hanging pot racks for the kitchen and bistro sets in a variety of styles from whimsical to neoclassic and traditional. Our pot racks are a favorite with gourmet stores. The company has been in Business for Over 30 Years and we employ skilled artisans and craftsmen. Aside from having some state of the art manufacturing equipment we still assemble and finish our product by hand. Many of our items are hand made or hand painted and very unique. We have gained a reputation for implementing unique ideas to traditional products. You will not find a better resource for attractive store fixtures and display fixtures with glass shelves for gift and specialty stores. The cast dining base line is very nice with thick glass table tops. You will also find that we are an excellent resource for glass.
wholesale to the trade ONLY!
Discounts Available for Volume Dealers


Grace Mfg. Co. Inc.