Wrought Iron Étagères
Shelves, Fixtures and Display Racks
All units have tempered safety glass shelves
Minimum Opening Order - Wholesale to the Trade ONLY! - Business License Required

FIX-36
Store Fixture / Display Rack
38"x20"x80" Tall
4 - 18" Shelves w/ Glass


E36-G
Gothic Style Étagère
37"x19"x79" Tall
4 - 18" Shelves w/Glass


E36-FT
French Traditional Étagère
37"x19"x80" Tall
4 - 18" Shelves w/Glass


E36-N
Neoclassic Étagère
37"x19"x80" Tall
4 - 18" Shelves w/Glass
Side Ornamentation Options on E36 Series

display shelves retail sales aids


-G ( Gothic )


-7 ( Vineyard )


-H ( Harvest)


-N ( Neoclassic )


-3A (Rose)


-FT (Fr. Traditional)
E365-0 Display Rack
Simple and Clean Yet Elegant Design
36 1/2 " Wide x 18 1/2 " Deep x 77 1/2"
5 Tempered Glass Shelves - Great for Display Purposes
for items such as crystal, ceramics, small gift items and jewelry etc.
same rack as E36-N or E36-G styles with and extra shelf and no side ornamentation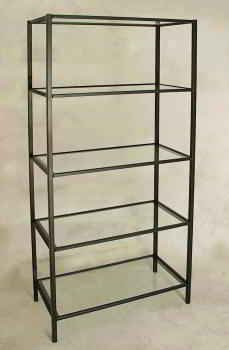 Display Racks with Glass Shelves
CU155Z

Round Curio Style Rack
72" Tall w/ 5 - 15" Diam.
Glass Shelves

FIX24-RD

Display Rack - Round
24" Diameter, Round Rack w/Glass
26" total diameter x 75" Tall
4 Tempered Safety Glass Shelves

CL-100

Wrought Iron Clock
Clock-a-Ge're Bakers Rack / Clock
24" x 18" x 78" Tall
3 - Glass Shelves - Quartz Clock
Metal Finish Options bakers racks home
store display fixtures glass table tops wrought iron dining tables
Volume Discounts and Stocking Dealer Prices Available to Qualified Retailers - Call
Contract, Commercial and Residential Designers Welcome!
These designer fixtures make excellent home or store displays. They are also great sellers in furniture stores. No assembly is required and they are made strong of steel tubing. All of the glass is tempered safety glass similar to auto safety glass and is extremely strong and durable. They are available in several designer finishes in neutral tones to compliment any decor and color theme.
Minimum Opening Order - Wholesale to the Trade ONLY! - Business License Required
Substantial Discounts Available for Volume Dealers
Contract, Commercial and Residential Designers Welcome!
Grace Mfg. Co. Inc.