glass table tops for dining and occasional tables
Wholesale to Businesses Only - Call for Current Pricing !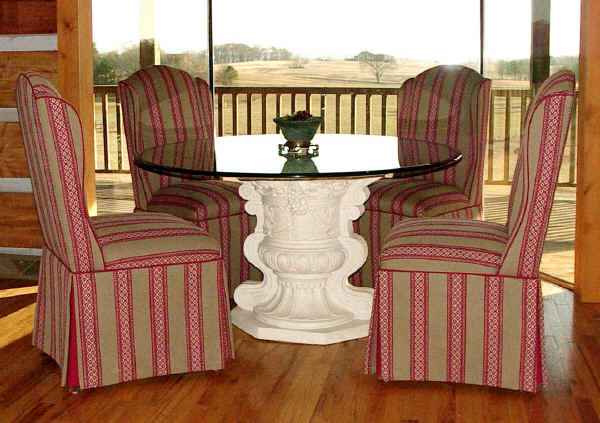 A Cast Dining Base with a 54" Round Beveled Glass Top (GL54RDB)
Shown here with some skirted Parsons Chairs - glass table tops are individually packed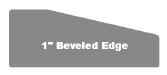 glass table tops Have 1" Beveled Edge - Square and Rectangle glass tops have clipped corner
Glass Table Top Specials - Limited Quantities - Big $aving$ - Click Here
Below is a list of our stock glass table tops for your dining table or occasional tables. We ship the majority of the glass table tops by common carrier. Some of the smaller glass items can shop via UPS or FED EX ground service. Lead time is normally less than two weeks on all stock items. We cannot offer any other sizes in single but will quote special sizes on large volume orders of 10 per size. Lead time on any special items is 6-8 weeks. The glass is packaged in a heavy corrugated carton with a heavy wave , edge protector on the inside of the box. Multiple items on a single order are generally palletized for additional handling ease and protection. We can only ship in the Continental US. Note: These tops are standard plate glass and are not tempered or heat treated.
Stock Table Tops Ready to Ship - Now !
Rectangular
42"x60" - GL4260BC
Round
24" Rd., GL24RDB 30" Rd. GL30RDB
36" Rd. GL36RDB 42" Rd., GL42RDB
Square
36" Sq. , GL36SBC 42" Sq. , GL42SBC
Closeout Glass Items Below
Special Glass Table Tops Ready to Ship - Now !
Round with Chamfered Beveled Edge



48" Rd. , GL48RD-Cham 54" Rd. , GL54RD-Cham 60" Rd. , GL60RD-Cham
wrought iron home store display fixtures replica pistols
and rifles medieval swords hand painted
Bar Stools:
Neoclassic Gothic Sun and Moon Cowboy
Bass flowers fruit marine / waterfront sports lighthouses
Who Are We?
Grace Mfg. Co. Inc. is metal and wrought iron furniture manufacturing company selling at wholesale. We are located in the the NW corner of Ga. in the town of Rome. Our accessories division , The Grace Collection, imports and distributes unique home accents and accessories for the home. We manufacture barstools, bakers racks, wrought iron beds, dining chairs, dinettes sets and tables and store display fixtures. We have a comprehensive line of gift store fixtures for retail store display. Our line also includes kitchen counters stools, hanging potracks for the kitchen and bistro sets in a variety of styles from whimsical to neoclassic and traditional. Our potracks are a favorite with gourmet stores. The company has been in Business for Over 30 Years and we employ skilled artisans and craftsmen. Aside from having some state of the art manufacturing equipment we still assemble and finish our product by hand. Many of our items are hand made or hand painted and very unique. We have gained a reputation for implementing unique ideas to traditional products. You will not find a better resource for attractive store fixtures and display fixtures with glass shelves for gift and specialty stores. The cast dining base line is very nice with thick glass table tops. You will also find that we are an excellent resource for glass.
Lead Time: Our normal shipping lead time is 2-3 weeks. We can accommodate rush orders for a small up charge. We make every effort to process your order as quickly as possible. Stock will dictate exact lead time.
Shipping: Our routing department makes every effort to ship your order as quickly and as cheaply as possible. Primary concern however is given to handling. We use carriers that have a good track record for delivering damage free and on time.
Finishes: We have a wide range of finishes and upholstery fabrics to accommodate any decor. Standard black is very popular but you will find that we cover the palette effectively in our designer finishes that we offer. Premium finishes other than Satin Black ( SB ) carry a 10% upcharge.
Drop Ship: We have a drop ship service available for those accounts that would like to have orders shipped directly to the retail customer and avoid handling the inventory. Keep in mind that residential delivery is always more than commercial delivery. Be certain to factor this into all prices quoted to the retail customer. There is a modest charge for drop ship service.
wholesale to the trade ONLY!
Discounts Available for Volume Dealers


Grace Mfg. Co. Inc.