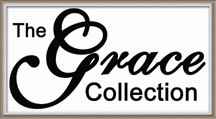 Its All About That Base !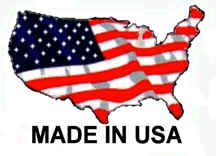 Bar Stool Bases
Grace Mfg. manufactures and offers many different types of bar stools that we offer wholesale to the trade complete with upholstered cushion seats and in various back styles. In effort to provide the most flexibility to our customers who have commercial projects where they already have a back and seat or are looking to upgrade the frame only for their casual seating projects, Grace offers all of our bar stools bases and frames separately plain or finished to order in any one of our designers finishes.
some examples of the bar stool bases and frames we offer
| | | |
| --- | --- | --- |
| Swivel Bar Stool Base "100" | Swivel Stool Frame "200" | Swivel Base "300" |
See more details below on these metal bases
Many times commercial designers, restaurants and residential home owners want to upgrade or specify new bases for their existing casual seating products. Below are the various styles of bar stools bases and stool frames we manufacture in our plant that we integrate into our finished bar stools and counter stool products. They are all commercial, contract grade suitable for any restaurant, bar, tavern or residential use.
All frame styles are available with a standard style or 90 degree stop left and right memory return swivel. You must specify this is you are ordering the bar stool frames only without the seat or back.
Swivels - Top and Side View
replacement part numbers are swivel-12BB and swivel-return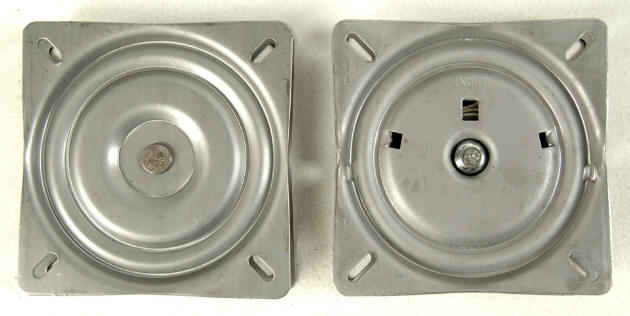 The swivel mechanisms are also available as replacement parts. We've never heard of one wearing out. If you want to replace your existing swivels on your bar stools with a superior quality one, these are 2 great options.
Wrought Iron Bases For Sale At Wholesale
100 Series Base
24 inch SW124-Blank (on left)
30 inch SW130-Blank (on left)
no extra tall 36 inch version is available on this frame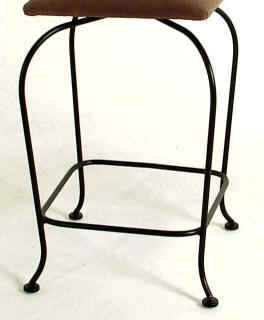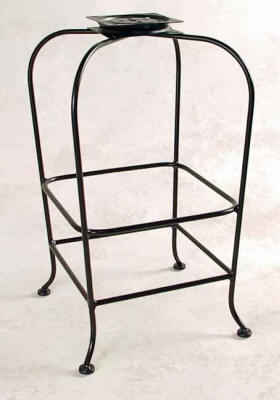 This a traditionally styled bar stool frame has a solid steel construction. We use a high quality swivel with hardened steel ball bearings, that is made in the USA. The all welded construction is virtually indestructible and will give years of service.
Top View of Base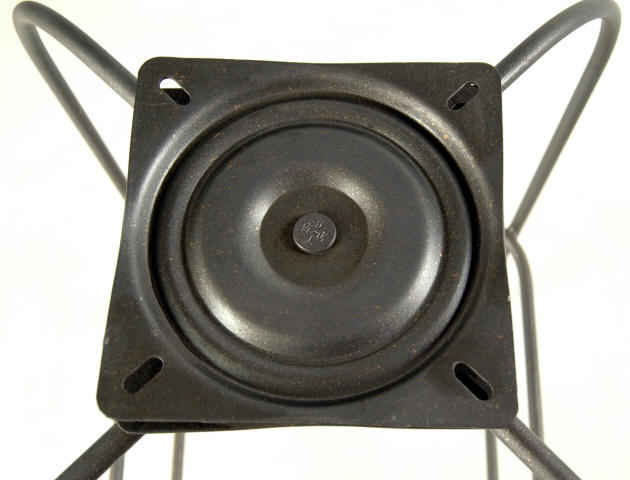 The Foot Close-up on 100 Series Frame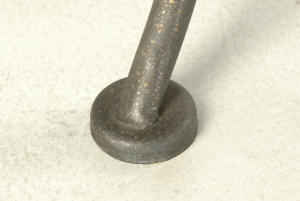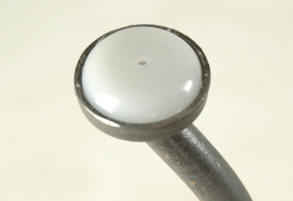 There is a non-marring glide insert on this frame. The HDPE insert is replaceable and serviceable with simple hand tools. It won't scratch and will last for years. It has a cushioning and leveling effect on the bar stool base.
Bar Stool Seat Heights
Typically all seating is sized at approximately 12 inches lower than the available table top or bar surface. For example a normal dining table is about 29-30 inches tall. Consequently, dining chairs are generally about 17-18 tall. This provides adequate leg room under the table for leg clearance and provides easy entry and exit to the dining group.
Typical Dining Table and Chairs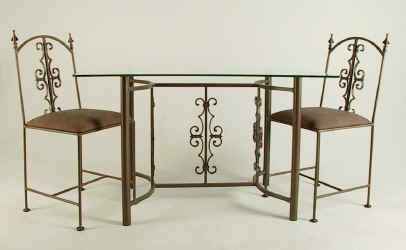 Gothic Chairs and Table
This table with the glass top on in is right at 30 inches tall. The metal Gothic dining chairs shown here with it have a seat height at 18". This is the typical spacing with the 12 inch rule for tables top and the frame base height distance. The same relationship carries to kitchen counters, bars and thus the corresponding bar stool frame height.
When it comes to kitchen counter stools, the basic 12 inch rule applies. Most kitchen counters in residential and commercial environments like company break rooms where there are sink generally are 36 inches tall. Often there is an island or kitchen counter / bar where casual seating is used to to add additional seating at the kitchen surface. Here again if the bar or counter is 36 inches tall , then the appropriate bar stool base should be about 24 inches when the seat is in stalled. This lets people sit at the kitchen counter island with the same basic posture as they would at a normal dining table which is the object. You always want to provide the most comfortable configuration and relationship between the table and the chairs as well as the counter to the 24 inch counter stools.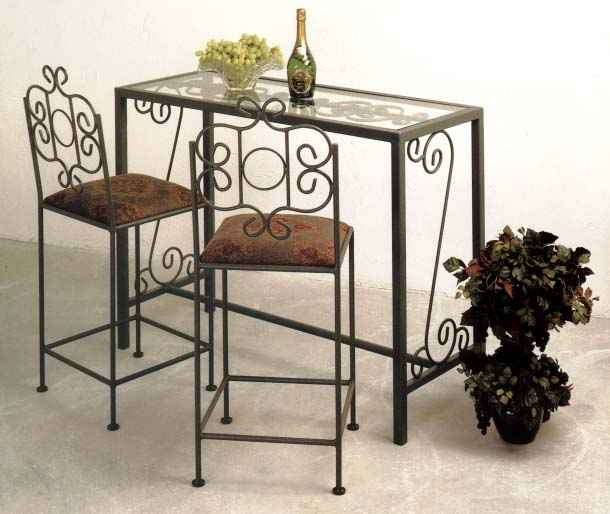 Here is an example of our 24 inch counter height French traditional bar stool frame sitting at a portable bar with glass top that is 36 inches tall. Both are stock items here at Grace. We also offer bars in wood surface tops as well. Have a look at our console tables and desks as well.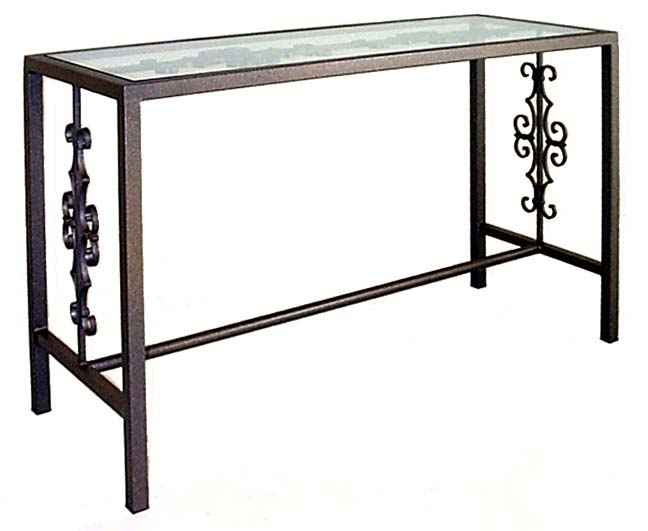 Gothic Console Table Base with Glass
At a commercial bar at a tavern, pub or home bar, the normal surface height is approximately 42 inches. So following the 12 inch rule, normal bar stool bases are designed to accommodate a 30 inch seat height. This height has shown to be very easy to sit down and get up several times of a period of time. At 42 bar is very typical because it is very easy to stand at which is normally the case in a pub, tavern or club environment. The same holds true in a residential wet bar or gaming area where many people entertain guests at. Surface heights can vary here up to 45 inches but about 42 is more the standard and is typically used. We not only sell upholstered seat stools in backless and with back in many styles , but we also sell the black bar stool base or frame to though with a specific project in mind.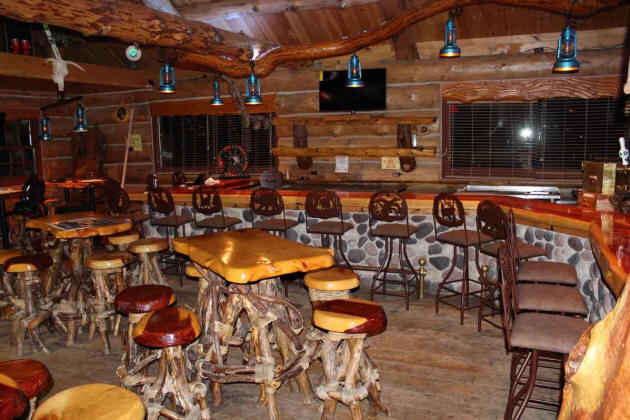 Grace bar stool bases at a commercial rustic lodge
This commercial lodge is in Wisconsin. We just love the look and our stools fit very well in this commercial environment. The base style is our 200 series and have a themed rustic bar stool back with our Cabin fabric on the upholstered seat. Non-marring glides are installed on all of these metal stool bases.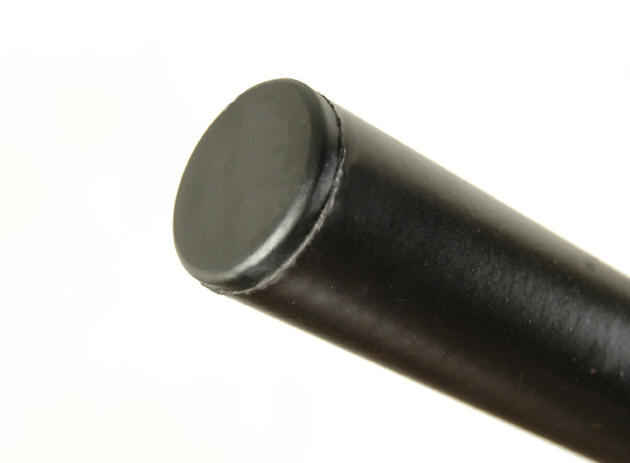 Close-up of our 200 series stool base foot glide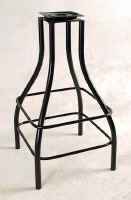 Examples of 30 inch Bar Stools
All of the stools in these pictures measure 30 inches to the top of the seat. And you guessed it ... these are designed to work at typical a 42" residential or commercial bar. Hey, you're getting pretty good at this now. We want you to have the right information, so should you decide to use our metal stool bases, you will get exactly what you are looking for. If you are unsure which base will fir your needs, just contact us. We are here to help.

Our Designer Metal Finishes
Grace offers a wide array of finishes on our bar stool line to compliment any color palate and decor style. We offer standard black plus 9 other premium designer finishes on every base we sell. All of our products we sell, including our bar stool frames, are available in any of these finishes. Just choose one and specify it on your order. Our color chart for the finishes is very easy to use and shows the finish applied to an actual metal part with some dimension so you can see how it reflects shadows and will look in the real world.
Check out our metal finishes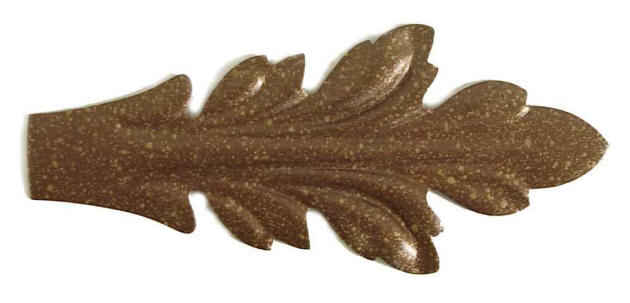 Additional Bar Stool Frame Options
We also offer some of our bar stools and base frames in an extra tall size. This size, while not as common as either the 24 or 30 height stool base, none the less fills an important niche in the frame heights for bar stools. This type of stool is generally used at a very tall surface of 45 - 48 inches. Here the companion frame should be 36 tall to carry the 12 inch theme even further. This is used where the there is need for a tall standing bar to place drinks or hors d'oeuvres out for guest at a party or a standing buffet environment. These bar stool bases must be made with additional thickness to account for the additional height to provide strength, structure and safety for the bar stools due to the tall nature of the stools. Not every frame lends itself to being adapted for very tall or extra tall 36 seat height use.
examples of extra tall metal bar stool frames
Upholstered Seat Options
While we offer the bar stool bases as described here plain without bask and seat if you so desire, we specialize in upholstered bar stools focusing on maximum flexibility on seat fabric options. Our finish and fabric chart contains a wide array of themed, traditional and modern fabric options so can personalize and customize each bar stool just the way you want. So check out our fabric options as well. By the way, we even sell our fabric by the yard if you need more for your upholstery projects. We try to cover all styles. If you don't see what you want, we can even cover with your own material with our COM service.
Check Out Our Upholstery Fabrics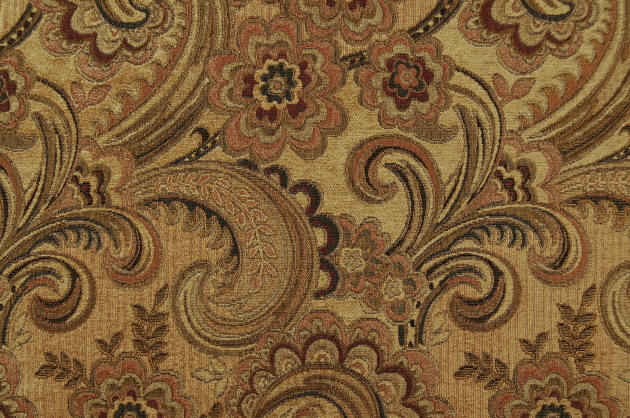 Shipping Our Bar Stools and Bases
We spare no effort and expensive in making sure your order gets to you in one piece and in good condition. I know what you're thinking ... what in the world can go wrong with an all steel bar stool base? Especially if it is as strong and sturdy as we say it is. Answer ... anything and everything !
The conveyor systems at the major small parcel carriers seem to be designed to try and destroy anything that is put on them. We've frankly has seen it all in 40 years , or so we think until THAT comes back, THAT being the unthinkable. Damage just plain happens from time to time and that is why we take every effort to minimize it and make sure your order or bar stools or bases gets to where it is going to on excellent condition. All that being said, our damage rate it extremely low.
That is why we buy heavy-duty double wall corrugated containers, bag the product and pack it tight ... and we mean tight. We are trying to withstand a 6 foot drop to a concrete floor and sustain no damage ... and yet ... it still happens. We bag the product and void fill with biodegradable kraft paper ( no foam peanuts here ) to provide padding and protection. We do the best we can within the confines of economy and serviceability to deliver efficient packaging on the entire line. Please recycle and re-use our containers. They are great for moving and storage as well.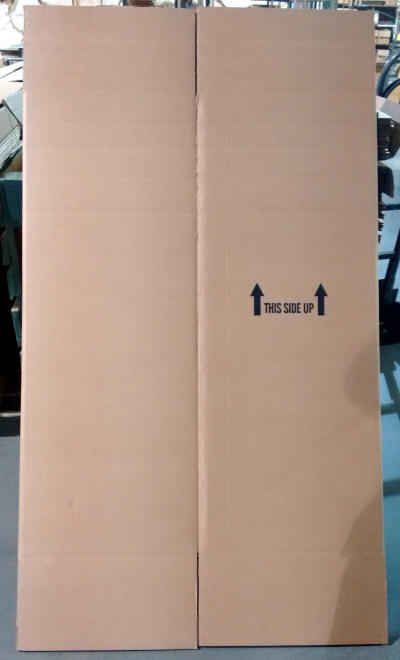 Bar Stool Boxes
These are our heavy-duty bar stool, table and base boxes we use to pack your order in. It is probably overkill, but we want your merchandise to arrive safe and sound. The container wall is rated at 275 pounds per square inch bursting strength. Simply put, that's a lot for a 35 pound item. The double wall boxes actually have 2 separate corrugated layers and a separate liner in between them to add strength to the boxes. The base of the box is double thickness with full overlap to provide superior bottom protection which where the business end of the box really is. We also use extra wide 3 inch tape instead of 2 inch in 2 layers to prevent splitting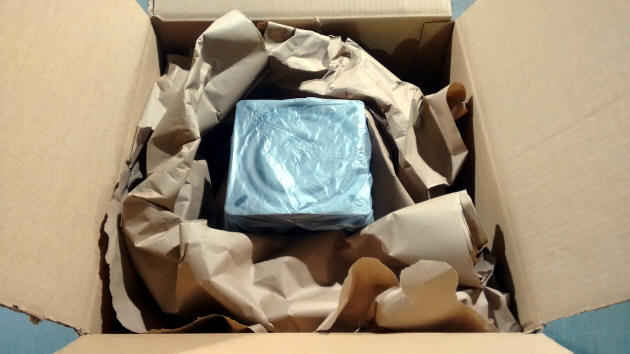 a bar stool base being packed
We pack them and salute them all as they hit the dock and the truck. Very few find their way back to the same dock for damages. THAT'S why we do all of this packing obsessing.
No matter what your bar stool frame height and base style requirements are, Grace offers a wide assortment of bar stools and metal frames to complete your casual seating expansion or renovation projects. We sell wholesale to the trade only with a very low opening minimum order and no reorder minimum. Contact us and we will gladly get you pricing on anything the bases or anything we offer. Remember our normal lead time is 14 business days.
Everything Is Made To Order
We make everything to order but still offer a very short 2 week lead time on everything we make. Just specify where you want the order shipped and we will make it happen anywhere in the US and in Canada too. We can even drop ship for you to a third address. Our routing department will follow your instructions to the letter and can delay or accelerate lead time to suit your needs.
How To Open An Account
Since Grace Mfg. Co. Inc. only sell wholesale to the trade, we expect you to show us some business credentials. Generally , you business license or tax resale certificate is sufficient. We won't release any information without that. We do this to protect our dealers. After all, you want us to protect you too, don't you.
We only require an opening order of $300 to work with us. After that there is no reorder minimum. Terms are available to firms with well established credit but we also offer all major credit card terms as payment. On special order that require COM, we will not start you order until we receive the special fabric you specify from you.
On volume orders over 30 bar stools or bases we can arrange special discounts and routing. We do have discount tiers built into the line to stocking dealers and designers as well dealing in larger project ... or just one piece. Discounts are held in place for a period of one year at which point in time you may need a new qualifying re-order to maintain a discount level.
Retail customers can contact us and we will direct you to a dealer in your area or find you an online retailer option. We unfortunately can't sell direct to retail customers.
We really appreciate your interest in our wrought iron furniture and accessory products and hope we can serve you. Whatever you need, we are here to help.