U.S. Civil War Replica Swords
Wholesale to the Trade Only - All Prices Reflect Suggested Retail
Minimum Opening Order - Business License Required
Confederate
C.S.A. Swords
SD926759CS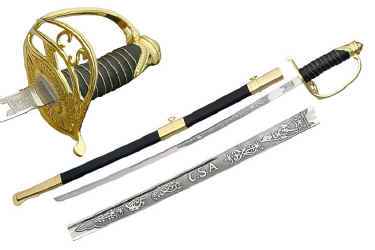 CSA Cavalry Civil War Sword
38" Long w/ C.S.A engraved marking on hilt engraved marking on hilt
Has leather match scabbard, wire wrapped grip and gold finish hilt
U.S. Civil War
/
Union
Swords
SD926759US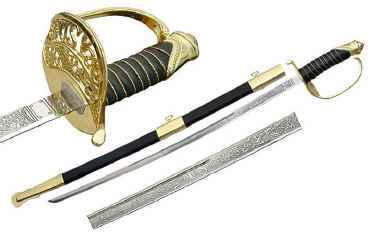 U.S. Union Cavalry Civil War Sword
38" Long w/ U.S. engraved marking on hilt
Has leather match scabbard, wire wrapped grip and gold finish hilt
SD910893
"The Shelby" Cavalry Officer's Sabre



40" Long Total - Blued Carbon Steel Scabbard
CS detail on Hilt - Wire Wrapped Leather Handle
Carbon Steel Blade w/CSA Etching
(type was used by General Joe Shelby who "never surrendered")

SD901006
U.S. Artillery Sword

39" Long Total - Brass Hilt - Wire Wrapped Leather Handle Carbon Steel Blade / Blued Scabbard
Blade Bears U.S. Markings Engraved Into Blade


SD910883 Confederate Foot Officer's Sword
39" Long Total - Carbon Steel Scabbard
CS detail on Hilt detail on Hilt - Wire Wrapped Leather Handle
Carbon Steel Blade w/CSA Etching

SD910917

Union Officers Sword
Union staff officers civil war sword - Etched blade with U.S. markings
Carbon steel blade with blued scabbard -
Hilt Close-up


SD9108844Confederate Officer's Dress Sword
38" Long Total - Brass Hilt and Blade Bear CSA Markings
Matching Carbon Steel Scabbard - Etched Carbon Steel Blade

SD902931

WD
Civil War Trooper's Sabre
42" Long Total - 4 Bar Brass Hilt
Wooden Handle - Carbon Steel Blade and Scabbard
Design Was Prevalent on Both Sides of Civil War
swords home medieval armor collection
store display fixtures glass table tops
U.S. civil war sabers - Excellent replicas from the Union and Confederacy:
These replica civil war swords and sabers are made of high quality materials. The blades and scabbards of our sabers are made of High Carbon steel and the pieces are historically accurate. Mounted cavalry and their swords provided the best battle field attack method as in war for over 500 years. For the civil war foot soldier, their swords were the last line of defense after the cannons had fired and the flintlocks had billowed their white smoke. Officers the Union and Confederate armies commanded loyalty, respect and bravery from their troops. Their swords and side arms were carried to remind the troops of that. Our reproduction swords and replicas reflect the sword makers craftsmanship of the era. You will be proud to own and display and one of these swords.

The War between the states literally tore the Unites States in two. Furthermore, the pain of the reconstruction era was nearly as difficult as the war itself. There are numerous tales of bravery and heroism from both sides of the conflict. The antique weapons and and articles of clothing that remain and serve to remind us of our heritage and of this difficult time in our country's history.

Lead Time: All orders are processed within 3-4 days whenever possible. The transit time depends on your location. The items are shipped from Ga. In the south, transit time is 1-3 days and up to 6 days for deliveries on the west coast. All orders are delivered in a maximum of 7 - 12 days. All cash refunds are subject to a 10% restocking fee. We can get you a UPS tracking number so you can track the progress of your shipment. Tracking numbers are available upon request. You can track your shipment directly fedex.com or appropriate common carrier. Your business is important to us and we will work hard to gain your trust.
Minimum Opening Order - Wholesale to the Trade ONLY! - Business License Required
Substantial Discounts Available for Volume Dealers

Grace Mfg. Co. Inc.


store display fixtures bakers racks bar stools