All of our wrought iron benches , love seats and settees on this page are made in our factory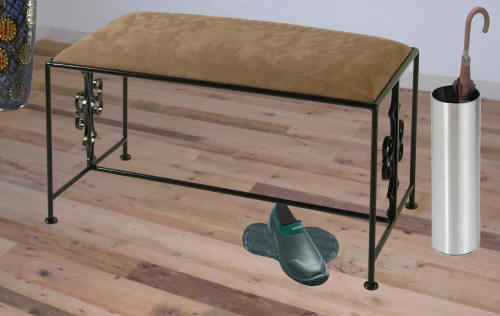 B2-G Gothic Style Bench 36 x 18 x 18 tall

More wrought iron benches - additional wrought iron patterns
Benches Finishes and Fabrics COM fabric option also available
Metal Settees and Loveseats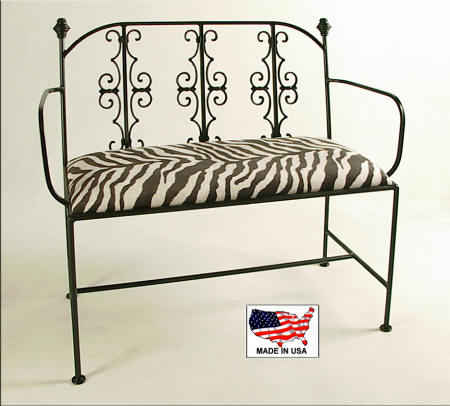 LS20ARM-G Love Seat with Zou Zou Zebra Fabric
upholstery fabrics and finishes
(40x22x36 Tall)

-7.jpg Grapes Option

Rose Garden (-3 Rose)

wrought iron loveseat
LS10ARM-3 (40x22x36 T)


-3A.jpg Long Rose Option

more wrought iron love seats and settees

Neoclassic Love Seat (-N)




Roman wrought iron




Love Seat (-RC)




Gothic Love Seats (-G)




LS10ARM-N




(40x22x36 T)

LS10ARM-RC
(40x22x36 T)

LS20ARM-G




(40x22x36 T)
New Product Alert - B300 Storage Bench
Our Design Process In Action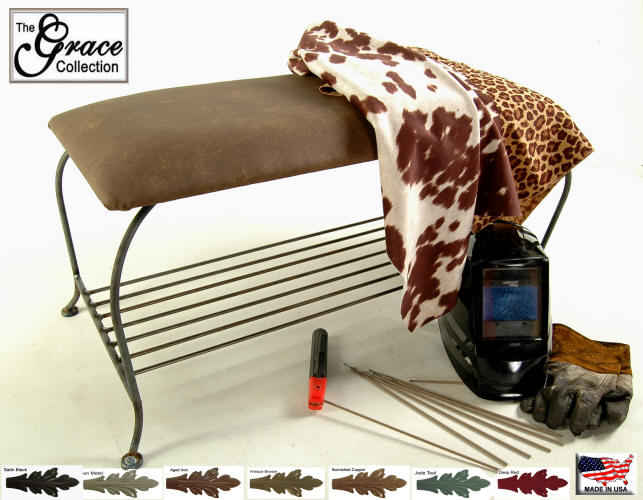 Here is a brand new product still in the develop stage. We call it a storage bench or a window bench. We wanted to try to show the whole process in one image this time of how we develop a new item. Once the prototype is done, we kick the tires for strength and durability. Then we start to "argue" ( discuss really ) how the product ought to be shown regarding color and upholstery options.
This simple wrought iron bench would be great at the foot of a bed, in a bay window, in the hall or at the doorway off to the side. You can store boots and other items under the bench ready for use as you enter and exit the home. Stay tuned as we argue about the finishes and fabric selections . So many to choose from.
glass table tops log home furniture baker racks
beds pot racks bar stools glass tops
dining chairs wrought iron bars replica armor
backless bar stools wrought iron dining tables

Who Are We?
Grace Mfg. Co. Inc. .jpg is a metal and bench and wrought iron furniture manufacturing company located in the the NW corner of Ga. in the town of Rome. Our accessories division , The Grace Collection, also imports pieces and distributes unique home accents and accessories for the home. We manufacture barstools, bakers racks, beds, dining chairs, dinettes sets and tables. Our line also includes kitchen counters stools, hanging pot racks for the kitchen and bistro sets in a variety of styles from whimsical to neoclassic and traditional. The company has been in Business for Over 30 Years and we employ skilled artisans and craftsmen. Aside from having some state of the art manufacturing equipment we still assemble and finish our product by hand. Many of our items are hand made or hand painted and very unique. We have gained a reputation for implementing unique ideas to traditional products. Our accounts include the finest stocking dealer furniture stores and the best commercial, contract and residential designers. We also manufacture several lines that sell well in gift, gourmet and specialty shops and stores. You will not find a better resource for attractive store fixtures and display racks with glass shelves for gift and specialty stores. Our pot racks are a favorite with gourmet stores. The cast dining base line is very nice with the thick glass table tops. You will also find that we are an excellent resource for glass table tops due to our volume buying. Our unique Medieval Arms collection includes suits of armor, swords, shields and replica weaponry sure to enhance any castle.

You will find that we ship on time and are very dependable. Our special order program allows for wide finish and fabric flexibility yet we still deliver in 2 -3 weeks on average. Priority and rush service is available upon request.

Shipping: We ship via common carrier and UPS. Most of our barstools and accessories can be shipped via UPS. We can use your preferred carrier or allow our shipping and routing department to find the best shipping method for you on any particular order. We will get you the lowest rate possible.
Made in the U.S.A. By Grace Mfg. Co. Inc.
.
.Minimum Opening Order - Wholesale to the Trade ONLY! - Business License Required
.Substantial Discounts Available for Volume Dealers