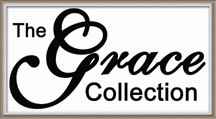 Half Round

Pot Rack
Wall Mount with Hardware and Hooks
HR20-CR
Half Round Rack w/Curls
(20" x 10" x 13" Tall - w/ 6 Hooks)

This Half Round Pot Rack is adorned with French curls and comes with matching pot hooks. Extra pot rack hooks are available for this style. Comes with wall mounting hardware. The design affords easy access on the wall. Item has heavy weight straps and uses high grade steel everywhere. Available in any stock finish. This pot rack is in stock and finished to order for quick lead time and maximum finish flexibility.
Material Used: Rim and back are 1 1/2" flat stock. Curls are 1/4" solid steel. Hanging hooks are 3/16" cold rolled steel.
Pot Rack Styles and Accessories Below

Modest Minimum Opening Order - Wholesale to the Trade ONLY! - Business License Required
Substantial Discounts Available for Volume Dealers
Contract, Commercial and Residential Designers Welcome!