French Bakers Rack - Bow Style
36BF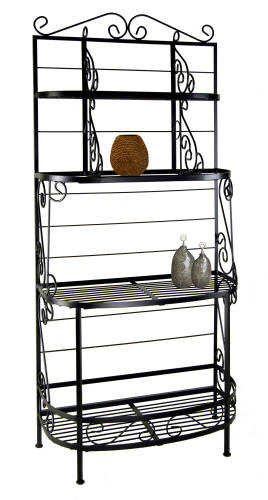 36 Inch French Bow Style Bakers Rack with wire shelves only
Shelf Depths - 10,14,17,17 36"wide x 15" x 83" Tall
The Grace Collection features a variety of wrought iron racks to fit your space and style. The old world charm of the French bow style bakers rack is available in a 36 inch wide model, as well as a 48 inch wide rack with slightly different spacing. The bottom shelves, including the useful basket-style shelf on the very bottom are 17 inches deep, while the first top shelf is 10 inches deep and the second shelf is 14 inches deep. The entire unit is 83 inches tall. With additional curls compared to our standard racks, this piece is especially ornate. Glass shelves are not available for this rack. The beauty and utility of the French bow style bakers rack makes this piece an excellent addition to your home and can be cherished for generations.
More Bakers Racks and Étagères Below
All bakers racks are Made in the U.S.A.
These wrought iron bakers racks are great in any home and make excellent store displays for gift, specialty, gourmet and department stores. They are great accent pieces in any room in the home.
These bakers racks have wrought iron wire shelves and are not available with glass.
Are units are fully assembled.

Find Bakers Racks Retailer Here
bakers racks home corner racks
more bakers racks styles display étagères
Minimum Opening Order - Wholesale to the Trade ONLY! - Business License Required
Substantial Discounts Available for Volume Dealers

Grace Mfg. Co. Inc.
19 Superior Blvd. SE / Rome, Ga. 30161
in Business for Over 30 Years