Bakers Rack - 48" French Bow Style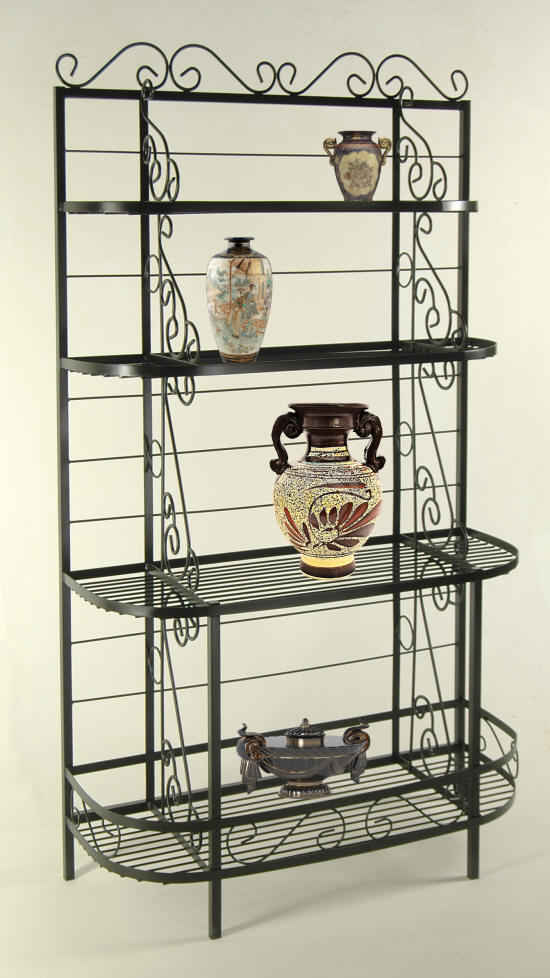 48BF-A Plain Version
French Bow Style Bakers Rack with wire shelves only - no glass
Shelf Depths - 10,14,19,19 48"wide x 21" x 83" Tall

The 48 inch French bow-style rack has more storage or display space than the 36 inch rack and its impressive size can be a focal point for any room. The top shelf is 10 inches deep, the second shelf is 14 inches deep and the bottom two shelves are 19 inches deep, giving you plenty of room for storage or display. The entire unit is 83 inches tall. Glass shelves are not available for this rack. The 48 inch French bow-style rack is an elegant piece of wrought iron furniture that is sure to be noticed and admired.
48BFA - All Wrought Iron

More Bakers Racks and Étagères Below
All bakers racks are Made in the U.S.A.
These wrought iron bakers racks are great in any home and make excellent store displays for gift, specialty, gourmet and department stores. They are great accent pieces in any room in the home.
These bakers racks have wrought iron wire shelves and are not available with glass.
Are units are fully assembled.
bakers racks home corner racks
more bakers racks styles display étagères Metal Finishes
Minimum Opening Order - Wholesale to the Trade ONLY! - Business License Required
Substantial Discounts Available for Volume Dealers

Grace Mfg. Co. Inc.