Bakers Rack with Glass and Wood
36VZX Glass and Wood Rack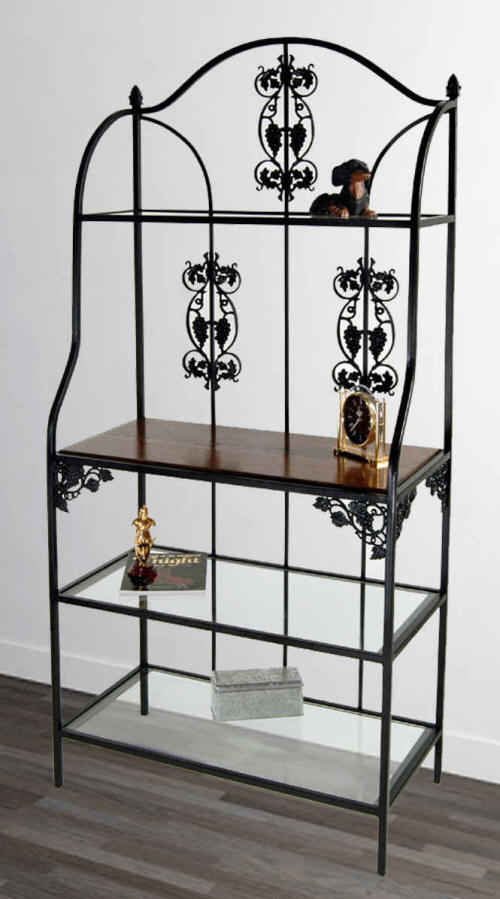 Bakers Rack - Glass and Wood
Variations
36VZX (shown) 36VZ 36VX
shown in SB black finish with one walnut finish wood shelf
General Information: This elegant bakers rack with Vineyard pattern grapes ornamentation is extremely functional and very yet stylish. Available with a combination both tempered glass and wood shelves, it provides a stable display piece for heavier items.

Outside Dimensions: 36 inches wide, 18 inches deep, and 78 inches tall

Inside Dimensions: 34 1/2 inches wide and 18 inches deep

Shelves: The top shelf is 10.5 inches deep. The space between the top shelf and the second shelf is 23.5 inches with the second shelf being 16.5 inches deep. The bottom three shelves are 14 inches apart. The bottom shelf is 6 inches from the floor. The next shelf is 22 inches from the floor. and the third shelf is 36 inches from the floor. The top shelf is 61 inches from the floor.
Multiple Options Available: All Stock Finishes, Glass and Wood as Shown, All Glass Shelves or All Wood Shelves
The grapes vineyard theme is a great look for the kitchen, dining or other living areas in the home. The extra height between the first and second shelves allows for placement of taller items. With a variety of metal finishes and four wood options to choose from, this piece can be manufactured to blend in with any decor.
Related Model Numbers With Their Options
GMC-36VZX (shown)
36" Wide, Glass and Wood Shelves

GMC-36VZ
36" Wide, All Glass Shelves

GMC-36VX
36" Wide, All Wood Shelves
Another Bakers Rack Variant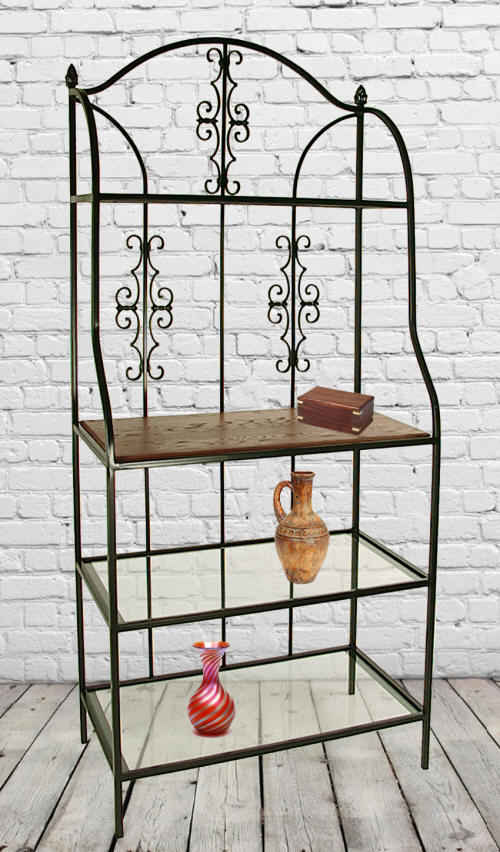 36G-XZ 36 x 28 x 78"
36G-XZ wood and glass on left and 36G-Z all glass on right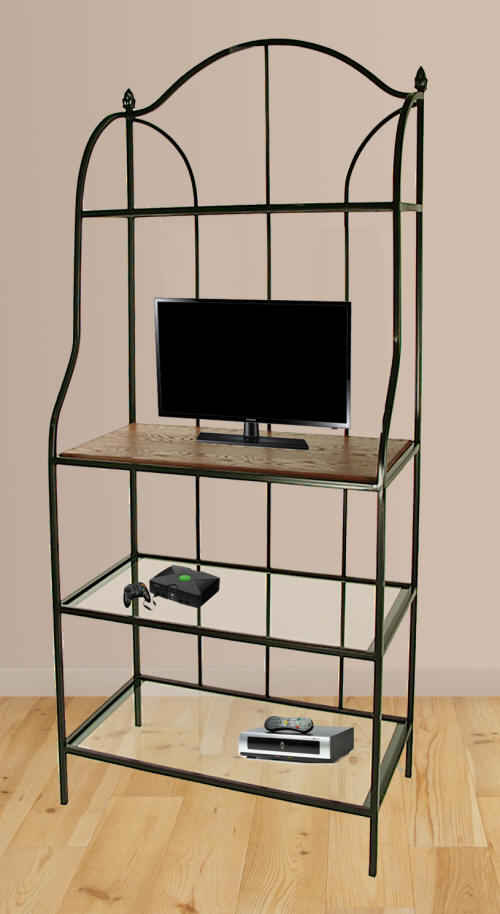 36LXZ Transitional Bakers Rack
Bakers Racks Home Page Bakers Racks Index
More Bakers Racks and Étagères Below
These wrought iron racks make excellent display fixtures for gift, specialty, gourmet and department stores. They are a great accent piece in any room in the home. They are fully assembled (just lay the glass shelves in place) and are made of strong steel tubing. Any glass shown is tempered safety glass similar to automobile glass. It is extremely strong and durable. Some styles have wrought iron shelves and are not available with glass. They are available in several designer finishes in neutral tones to compliment any decor and color theme.
Who Are We ?
Grace Mfg. Co. Inc. is metal and wrought iron furniture manufacturing company selling at wholesale. We are located in the the NW corner of Ga. in the town of Rome. Our accessories division , The Grace Collection, imports and distributes unique home accents and accessories for the home. We manufacture barstools, bakers racks, wrought iron beds, dining chairs, dinette sets and tables and store display fixtures. We have a comprehensive line of gift store fixtures for retail store display. Our line also includes kitchen counter stools, hanging potracks for the kitchen and bistro sets in a variety of styles from whimsical to neoclassic and traditional. Our potracks are a favorite with gourmet stores.

The company has been in Business for Over 30 Years and we employ skilled artisans and craftsmen. Aside from having some state of the art manufacturing equipment we still assemble and finish our product by hand. Many of our items are hand made or hand painted and very unique. We have gained a reputation for implementing unique ideas to traditional products. You will not find a better resource for attractive store fixtures and display fixtures with glass shelves for gift and specialty stores. You will also find that we are an excellent resource for glass.

Lead Time: Our normal shipping lead time is 2-3 weeks. We can accommodate rush orders for a small up charge. We make every effort to process your order as quickly as possible. Stock will dictate exact lead time. Shipping: Our routing department makes every effort to ship your order as quickly and as cheaply as possible. Primary concern however is given to handling. We use carriers that have a good track record for delivering damage free and on time.

Finishes: We have a wide range of finishes and upholstery fabrics to accommodate any decor. Standard black is very popular but you will find that we cover the palette effectively in our designer finishes that we offer. Premium finishes other than Satin Black ( SB ) carry a 10% upcharge. Drop Ship: We have a drop ship service available for those accounts that would like to have orders shipped directly to the retail customer and avoid handling the inventory. Keep in mind that residential delivery is always more than commercial delivery. Be certain to factor this into all prices quoted to the retail customer. There is a modest charge for drop ship service. wholesale to the trade ONLY!