Classic Bakers In Coastal Colors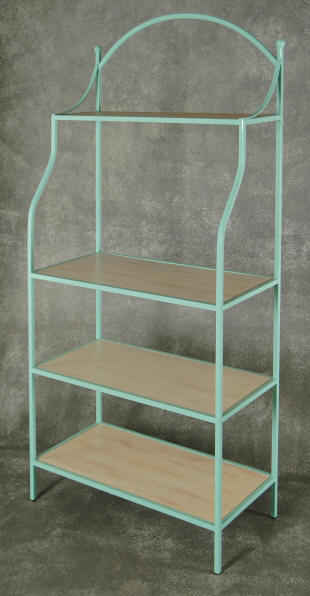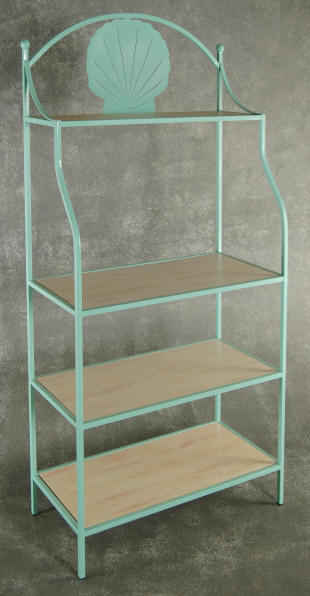 Model numbers BR3618 and BR3618-Scallop
choose plain ( left ) or with any medallion we do
36" x 18" x 76" with wood shelves
Coral Reef Coastal Bed

Bistro Bar Stool and Table Set




SML-24 Coastal Stools with T1635-WD Base
and WD36 36" wood top


SW324-8FPalms Kitchen Counter Stool

Suggested Metal Furniture Finish and Wood Options

Metal Finishes

MW - Milk White


IV - Ivory


ST - Stone


Wood Top Options


Washed Sand Top


Milk and Honey Top

Metal Finishes

IB - Ice Blue


CR - Coral Reef


CT - Coastal Teal


More Wood Table Top Options


Washed Teal




Washed Coral


Washed Blue

Some Fabric Suggestions

Buff Levante

Shells


See all of our metal furniture finishes and fabrics together on one page so you can make a proper selection to suit any room decor. We offer a range on traditional and modern looks so you can build a furniture set or even a single piece any way you like.

We offer a wide array of wood table tops in many designer finishes. Choose from 36" to as big as 54" round. We also offer glass tops for all of our bistro furniture sets.

Additional Back Patterns Available


some other coastal themed bar stools

24" Palm Tree Stool
SW324-8F-Palms , Coral

SML-24 Scallop
24 " Stool



Palm Tree Stool


SW324-8F-Palms , Coral
30" SW330-8F-Palms




SML-24 Sand Dollar, 24"
several patterns , also 30"






SW224-SML Scallop
24 swivel stool , 30" also avail.
3 swivel frame styles


Other Bar Stool Configurations and Options

Standard Frame Non-Swivel Bar Stools

Also Available As Swivel Bar Stools and Kitchen Counter Stools




SW330-SML Scallop and SW330-SML Sand Dollar

300 Series Frame in 30" seat height - also available in 24"

Bistro Sets and Chairs Available
Item Numbers

Description

SML-18 (Pattern)
T129

18" Silhouette Chair - Several Patterns




29" Tall Dining Bistro Table Base

SML-24 (Pattern)
SW124-SML (Pattern)
T136

24" Silhouette Counter Bar Stool - Several Patterns




24" Swivel Counter Stool- Several Patterns




36" Tall Bistro Table Base

Glass or Wood Tops Extra

SML-30 (Pattern)
SW130-SML (Pattern)
T142

30" Silhouette Bar Stool - Several Patterns




30" Silhouette Swivel Barstool Stool - Several Patterns


42" Tall Bistro Bar Table Base

Glass or Wood Tops Extra

GL30RDB




GL36RDB

30" Round Glass Top - 1" Beveled Edge




36" Round Glass Top - 1" Beveled Edge
Coastal Collection for the 21st Century
For decades, the colors of the ocean, the sunrises and sunsets and the sea shells gathered along the beaches have been reflected in the various homes and summer cottages that dot the landscape of coastal territories all around the world. Driftwood with its bleached grey tones and even the sandy whites and tans of the beach itself crept into the homes along with the sand from the bare feet that walk the shores. Of all the color palettes in design for the places of man, the beaches, with water kingdom hues and tints are some of the most delightful shades to bring into our living areas.
Who doesn't smile with the deep corals and turquoise teals playfully displayed in even the most sophisticated setting? A revival of color is occurring throughout the industry and the shorelines are restating and rethinking their color choices of old. More bold, more alive, each of these colors speaks differently to each person in how much they utilize and where they put it in their homes. Yet the classic themes have simply been tweaked to bring out brilliance that only can be seen in the masterpiece of nature.
This selection of Coastal Colors is timeless as well as modern, with combinations that appeal to you, selected by you for the mood and level of sophistication and/or playfulness that you require. Bring in a sunset with its riotous display of color or the somber tones of a beach in the predawn hours with just a splash of an approaching dawn. You will find it here as it is presented for your selection to bring the splendor of nature inside with our coastal furniture collection.
Sea Shells Bar Stools Fabrics Wrought Iron Bar Stools
swivel stools non-swivel barstools
wrought iron dining tables store display fixtures with glass shelves