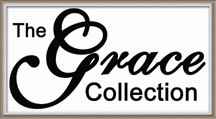 Image Use Policies
The images on the Grace Collection web site are property of the Grace Mfg. Co. Inc. Any use of these images or reproduction in digital or printed format without expressed written consent is forbidden. Grace Mfg. Co. Inc. may grant image use permission of a portion of our image library provided the following conditions are met.
Formal request for image use must be made to Grace Mfg. Co. Inc. in writing via fax, mail or email delivery.

Images must be used in the direct retail marketing of the products of Grace Mfg. Co. Inc.

If image use permission is granted for internet use , a copy of the image must be placed on the user's server. You may not call images from our systems or utilize our bandwidth in any way as a direct image link from any online or offline digital document.

A CD ROM is available if more than 30 images are needed. There is a charge for this service. The images may be downloaded from our web site for copy purposes only if expressed written consent is given in paper or digital form directly from us.

None of the images of Grace Mfg. Co, Inc. may be altered in any form.

Products that have been purchased may be photographed and distributed for the purpose of selling said product by the purchaser, only in conjunction with the direct retail marketing of products of Grace Mfg. Co, Inc., only with written permission from Grace Mfg. Co, Inc.

No portion of our web site page code may be used or copied in any form without the expressed written consent of the author.

Photography and related other intellectual property is protected under United States and International copyright laws regarding "Original Works of Authorship" Violation and misuse will result in prosecution to the full extent of the law
damages can be up to $100,000 per incident
for more information on copyright protection and the law , visit www.copyright.gov
wrought iron home store display fixtures glass table tops
log home furniture bakers racks bar stools